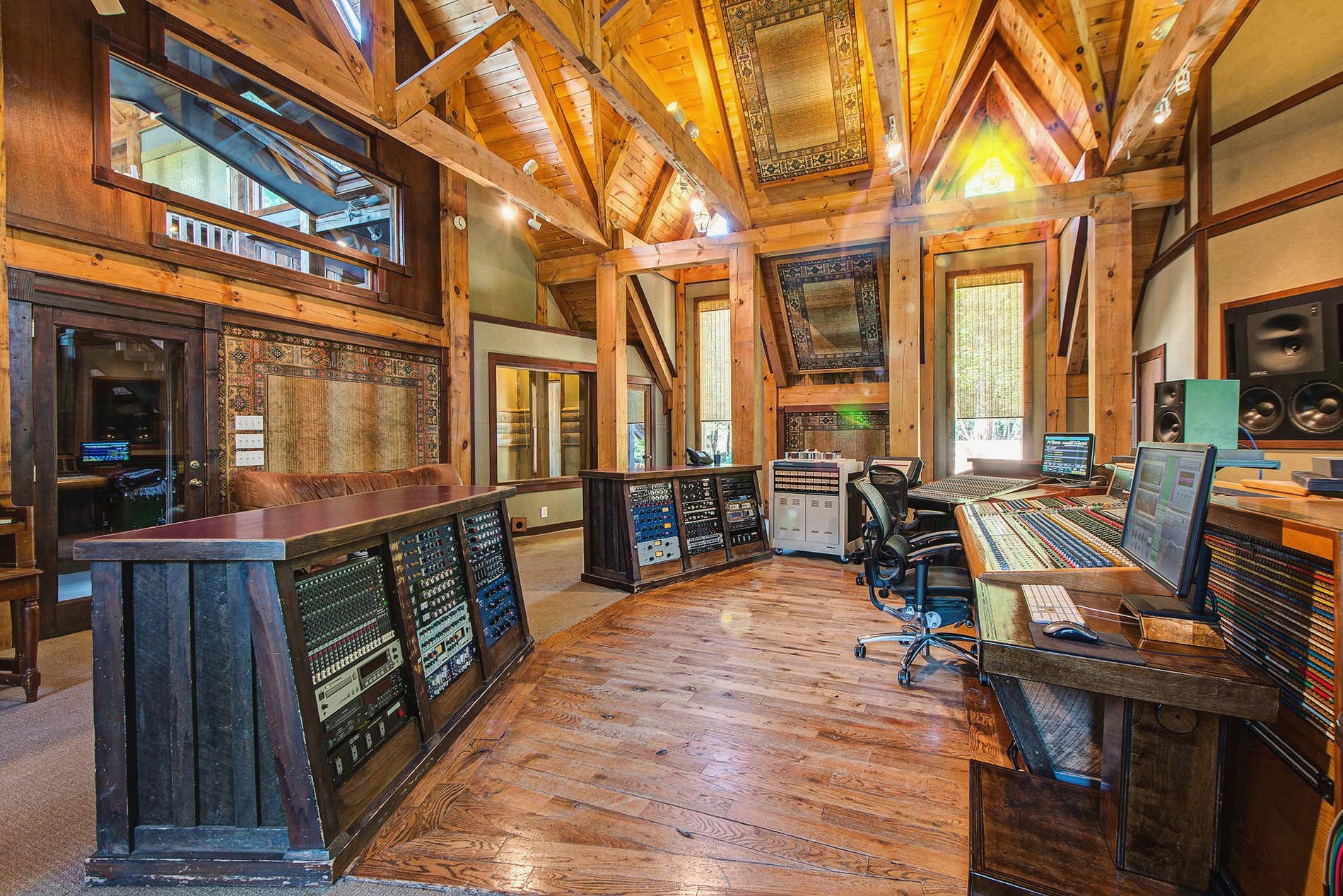 The Lodge
Our Largest High-End Recording Studio
The Lodge is the largest studio at Dark Horse Recording, with a grand control room boasting a 33-foot cathedral ceiling and tall windows with a countryside view. The Lodge was designed to cater to the most demanding of recording sessions while providing an exquisite environment.
Tracking sessions of all sizes can be comfortably accommodated in The Lodge. Ample room allows players to be stationed in the control room itself, giving closer proximity to the production staff. If isolation is desired, many configurations are available.
A large tracking room exists to the immediate right of the control room. A Yamaha C7 grand piano sits in another spacious iso room. Three more rooms are directly available, and guitar and bass amplifiers are often isolated on the lower level, freeing up all other spaces on the main floor for players or vocalists.
For mixing, don't be misled by the high ceilings and many windows—this is an acoustically-correct listening environment, perfect for even the most intimate of sessions.
The Lodge also features a large gourmet kitchen and an upstairs lounge with gorgeous views.
The Lodge Studio Photo Gallery
Console
The lodge features a 48 input Trident Series 80 desk married to a Martin Sound ACX 24-channel sidecar for a total of 72 channels of AMS / Neve Flying Faders automation. This Trident is heavily modified by Bud Wyatt: EQ, mix, summing amp, and IC chip upgrades with functional modifications, e.g., solo safes, 8 auxiliary sends, nine 2-track send/returns, 24-buss, and custom external patch bay.
Cue System
Formula Sound Q-10 system
Crown CE1000 amplification
Two separate stereo cue systems
(Quiet, Clean, Powerful)
Mobile Cue System
(4) Mobile Cue Stations
Each Includes:

Mackie 1604
Crown D75 Amplifier
Pro Tools Specifications
Apple Mac Pro 8 Core 2.26 Ghz
Digidesign HDx System
(1) HD I/O'
(2) 192 I/O for a total 40 Inputs / 40 Outputs
Digidesign Sync I/O
Glyph Tech GT-key with
(6) hot-swappable w/AIT-2 Tape Drive
37″ LCD Display
Automation
AMS / Neve Flying Faders
72 channel plus Master and 3 group Faders
Monitoring
Midfield: Genelec 1031A
Nearfield: Yamaha NS10
In Wall: Genelec 1039A (3-way with dual 15′ woofers)
Processing
(2) ADL 1000 Compressors
(1) Alan Smart C2 Stereo Compressor
(2) Amek 9098 Mic Pre / EQ
(2) Amek 9098 Stereo Compressors
(1) Aphex 104 Aural Exciter
(2) Aphex 662 Gates
(8) API 312 Preamplifiers
(4) API 550a Equalizer
(2) API 560 Graphic Equalizer
(1) Apogee AD-500
(1) BBE 862 Sonic Maximizer
(4) Brent Averill 1073 mic pre/eq
(2) Daking 52270 Mic Pre / 4-band EQ
(2) Daking 91579 Compressors
(2) DBX 165a Compressors
(3) DBX 902 De-essers
(4) DBX 903 Compressors
(2) DBX 904 Noise Gates
(2) Empirical Labs EL8 Distressors
(1) Eventide DSP 4000
(1) PCM 91 Digital Reverb
(1) PCM 81 Digital Reverb
(2) Roland SRV-330 Digital Reverb
(1) Roland SDE-330 Digital Delay
(8) Sound Projects 828 Mic Pre Amps
(1) SPL Transient Designer 4
(1) TC 2290 Digital Delay
(2) Telefunken V72 Preamps
(2) Tubetech CL-1B Compressors
(2) Tubetech PE-1C Equalizers
(2) UA 1176 Limiting Amplifier
(4) Vintech Audio X-81 Mic Pre/EQ
Condensers
(1) Neumann 582
(2) UM92
(1) Neuman M 147
(2) Audio Technica 4033
(2) Audio Technica 4050
(2) SM 81
(1) Neumann U87
(1) Microtech Gefell M70
(1) Microtech Gefell M900
(1) Shure Prototype
(2) Shure KSM44
(2 )Shure KSM141
(2) AKG 414
(2) AKG 451
(1) Crown PZM
(1) Sontronics STC-1
(1) Sontronics Mercury
Ribbons
(2) Cascade Fathead (Silver)
(2) Cascade Fathead (Gold)
(2) Cascade Fathead (Active)
(1) KSM 353
(2) Royer 122
(1) Sontronics Apollo 2
Dynamics
(7) SM 57
(3) SM 58
(1) Shure Beta 57
(1) Image
(1) Fostex M5
(1) AKG D112
(1) Shure Beta 52
(1) Shure SM 54
(6) Sennheizer 421
(1) Sennheizer 441
(1) RE20
(1) SM7b
(1) NS-10 Subkick
(1) TOA!
(1) Sontronics Corona